Archive
DIY Sex Ed: Wednesday 5/22/19
As a callow, overweight youth just having graduated from Tween University with a degree in Acne, I felt certain stirrings and had heard certain rumors about "doing it." One day I repeated a crude joke from the playground to my mom and followed up with:
"What's a cunt?"
"Well," she said, drawing a breath and letting it out, "it's part of the female anatomy and I'll leave it at that. I think you and your father should have a little talk about the birds and the bees."
Assuming she had prepped Dad to have "the talk," I waited for it to happen, face flushing whenever we menfolk were by ourselves, but he never did tell me anything about reproductive rites. But it wasn't long before a little book that I didn't think had been in our library mysteriously appeared on my bedspread, called Facts of Life and Love for Teenagers by a nice lady whose name I forget.
So I did what any 13-year-old would do: I immediately hid the book, lest a friend come by and notice it, and furtively read it in bed by flashlight, looking for the good parts. There was, alas, no mention of birds or bees. It occurred to me that I had never witnessed birds doing it, and certainly not bees, but perhaps those two houseflies I remembered seeing united in flight were making whoopee. It must be a thing, I figured, recalling listening to Noel Coward croon "Birds do it, bees do it, even educated fleas do it" from our phonograph, but really, how do birds do it? Do they take off their feathers first? Do Bees lay aside their little stingers?
And whatever was "doggy style," I wanted to know. I consulted the book, but failed to find anything that concerned canines. Recalling that dogs spend a lot of time sniffing each other's butts, I wondered if that was something grown-ups did in bed. Another term I had heard, "Missionary Style," also baffled me. I figured Bibles played some role, but couldn't imagine what it might be.
I did pick up some useful info from the book, like what clitoris, vagina, semen, and vas deferens denoted (enabling me to nickname Anthony Spinelli Spermatozoa), but precious little about technique; that I would have to do myself.
And so, I did it myself, for quite a while. Truth be told, I only managed to do it with an actual female when I was 21. And speaking of technique, do you know how she responded at the peak of passion?
"Hey! That's my anus!"
B(u)y the Book: Friday 5/3/19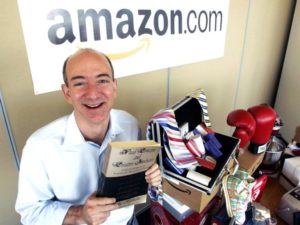 Here's prematurely alopeciated Jeff Bezos, proudly displaying Amazon wares looking part goofball, part nerd, and part used car salesman. The photo of the now-richest human being is undated, but I place it in the late 1990s.
One clue is that book he's holding, Fluid Concepts And Creative Analogies: Computer Models Of The Fundamental Mechanisms Of Thought, 1st Edition, by Douglas Hofstadter, published in 1996 and currently selling for $20.17 at Amazon.
Amazon's blurb for it reads: "Driven to discover whether computers can be made to 'think' like humans, Hofstadter and his colleagues created a variety of computer programs that extrapolate sequences, apply pattern-matching strategies, make analogies, and even act 'creative.' As always, Hofstadter's work requires devotion on the part of the reader, but rewards him with fascinating insights into the nature of both human and machine intelligence."
Well gosh, isn't that just what young Jeff went on to do? Amazon's AI inference engines are among the best in the biz. Everything you do on the site is tracked to predict what you will want next and put up for sale to assorted merchants and data brokers. All that shopping and just clicking around made Jeff a media plutocrat by giving people what they were urged to want, but also by selling their souls. We might have gotten the hint then, but who was paying attention to all that profiling or knew AI would come after us with it? My advice: resist one-click shopping.
Childfree Doesn't mean Carefree: Saturday 3/30/19
WIRED this week features a rather joyless essay, Why Don't You Want Kids? Because Apocalypse! that makes a case for the Childfree movement, as is evidenced on Reddit and in several recent or forthcoming books and academic articles. I can relate to these young folks who spurn parenthood; newly married in my mid-twenties, I decided I didn't want to have any kids. Now the childfree folks say its to spare potential offspring from one or more coming collapses. Back then, Vietnam, Nixon, assassinations, and civil disturbances, not to mention overpopulation, made bringing a child into the world seem risky, if not futile. But the real reason I didn't want to was that I had decided I did not want my wife to be the mother of my children. That was a problem, and after three years together we sensibly broke up.
It took many relationships and 30 years for me to change my mind, and now my only child, my special daughter, is about to enter college. Of course I'm glad we had her, and gratified that she's plotting a career to fight for environmental quality justice. We—and she—know her path won't be easy, but we wouldn't have it otherwise.
Now, many of today's childfreebies may have staggering loads of student debt, which wasn't so much of a problem when I graduated from college. No doubt, having a baby when one is under such a financial cloud can feel daunting. But even if they manage to pay off their own college and grad school obligations, they'll still need to save the money they might have spent to educate their unborn. That's because, come the time when they grow old and feeble, they'll need to pay for support that adult children typically provide ageing parents; such services don't come cheap and may go on for a number of years, if not decades. Are they prepared to put their money where their mouth is, their faith in the kindness of strangers, and their fates in underpaid hands, or have they already decided that the world will soon end and take them with it? If so, good for them. Who needs another generation of nihilists?
File under End Days