Archive
The Next Debate Needs More Mud: Wednesday 10/16/2019
The Democratic presidential debates are getting too predictable and too carefully scripted to slant coverage the way media barons and their CIA minders want. It has come time for presidential aspirants to get down and dirty (Don and dirty?) And so, for the next nationally televised debate (hopefully over the air as well as on cable news), here's what I'd like to see:
Live mud wrestling onstage, narrated by a Howard Cowell impersonator!!!
Picture, if you will and can, Joe Biden and Bernie Sanders facing off in a sea of mud, clad only in Titleist shorts, tripping, poking eyes, and body-slamming their opponent. Picture too Elizabeth Warren and Kamala Harris  in Speedos  tearing at each others' hair (advantage Warren) or slipping through holds (advantage Harris). Let's pair off all the others and make a ladder of mud until the final encounter, mano a mano, wrestles the top contenders to their inevitable (if the DNC has its way) political death.
Then and only then will we know what these people are made of. My prediction of who will take the final round is…
National Guard reservist and in-shape Iraq veteran Tulsi Gabbard.

Issue with Contact Forms Fixed: Wednesday 6/19/19
There was a problem with our contact form that prevented emails from going out when the Send Message button was pressed that was not apparent to senders. If you sent a message via the Contact form during the past several months, it was not received. The issue has been fixed. Please continue to get in touch. We will get back to you if you state that you wish a reply to your message, or sometimes even if you don't.
Click Contact on the menu at the top of the page to access the form. Thank you.
I Support Tulsi: Monday 6/10/19
And here's some good reasons why you should too, win or lose.
If you share only one thing about Tulsi with your friends and family, make it this video. Over six minutes, this raw and emotional exchange encapsulates the reason she is running for president. #Tulsi2020 pic.twitter.com/BaB3RxrKIq

— Tulsi Gabbard (@TulsiGabbard) April 28, 2019
B(u)y the Book: Friday 5/3/19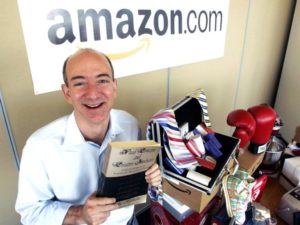 Here's prematurely alopeciated Jeff Bezos, proudly displaying Amazon wares looking part goofball, part nerd, and part used car salesman. The photo of the now-richest human being is undated, but I place it in the late 1990s.
One clue is that book he's holding, Fluid Concepts And Creative Analogies: Computer Models Of The Fundamental Mechanisms Of Thought, 1st Edition, by Douglas Hofstadter, published in 1996 and currently selling for $20.17 at Amazon.
Amazon's blurb for it reads: "Driven to discover whether computers can be made to 'think' like humans, Hofstadter and his colleagues created a variety of computer programs that extrapolate sequences, apply pattern-matching strategies, make analogies, and even act 'creative.' As always, Hofstadter's work requires devotion on the part of the reader, but rewards him with fascinating insights into the nature of both human and machine intelligence."
Well gosh, isn't that just what young Jeff went on to do? Amazon's AI inference engines are among the best in the biz. Everything you do on the site is tracked to predict what you will want next and put up for sale to assorted merchants and data brokers. All that shopping and just clicking around made Jeff a media plutocrat by giving people what they were urged to want, but also by selling their souls. We might have gotten the hint then, but who was paying attention to all that profiling or knew AI would come after us with it? My advice: resist one-click shopping.
Childfree Doesn't mean Carefree: Saturday 3/30/19
WIRED this week features a rather joyless essay, Why Don't You Want Kids? Because Apocalypse! that makes a case for the Childfree movement, as is evidenced on Reddit and in several recent or forthcoming books and academic articles. I can relate to these young folks who spurn parenthood; newly married in my mid-twenties, I decided I didn't want to have any kids. Now the childfree folks say its to spare potential offspring from one or more coming collapses. Back then, Vietnam, Nixon, assassinations, and civil disturbances, not to mention overpopulation, made bringing a child into the world seem risky, if not futile. But the real reason I didn't want to was that I had decided I did not want my wife to be the mother of my children. That was a problem, and after three years together we sensibly broke up.
It took many relationships and 30 years for me to change my mind, and now my only child, my special daughter, is about to enter college. Of course I'm glad we had her, and gratified that she's plotting a career to fight for environmental quality justice. We—and she—know her path won't be easy, but we wouldn't have it otherwise.
Now, many of today's childfreebies may have staggering loads of student debt, which wasn't so much of a problem when I graduated from college. No doubt, having a baby when one is under such a financial cloud can feel daunting. But even if they manage to pay off their own college and grad school obligations, they'll still need to save the money they might have spent to educate their unborn. That's because, come the time when they grow old and feeble, they'll need to pay for support that adult children typically provide ageing parents; such services don't come cheap and may go on for a number of years, if not decades. Are they prepared to put their money where their mouth is, their faith in the kindness of strangers, and their fates in underpaid hands, or have they already decided that the world will soon end and take them with it? If so, good for them. Who needs another generation of nihilists?
File under End Days